And now for the goodies
Learning new skills
At Lamontagne, working in sanitation is about more than just cleaning. We encourage our sanitation attendants to develop their mechanical skills and learn on the job. Knowing the parts of the machines and how to assemble them is a huge asset—for you and for us.
Regular, rewarding work
As a sanitation attendant, you never know what the day will bring. It's nice to have a regular job without a boring routine!
What motivates me day to day is making sure the equipment is nice and clean so the day shift can start production on time.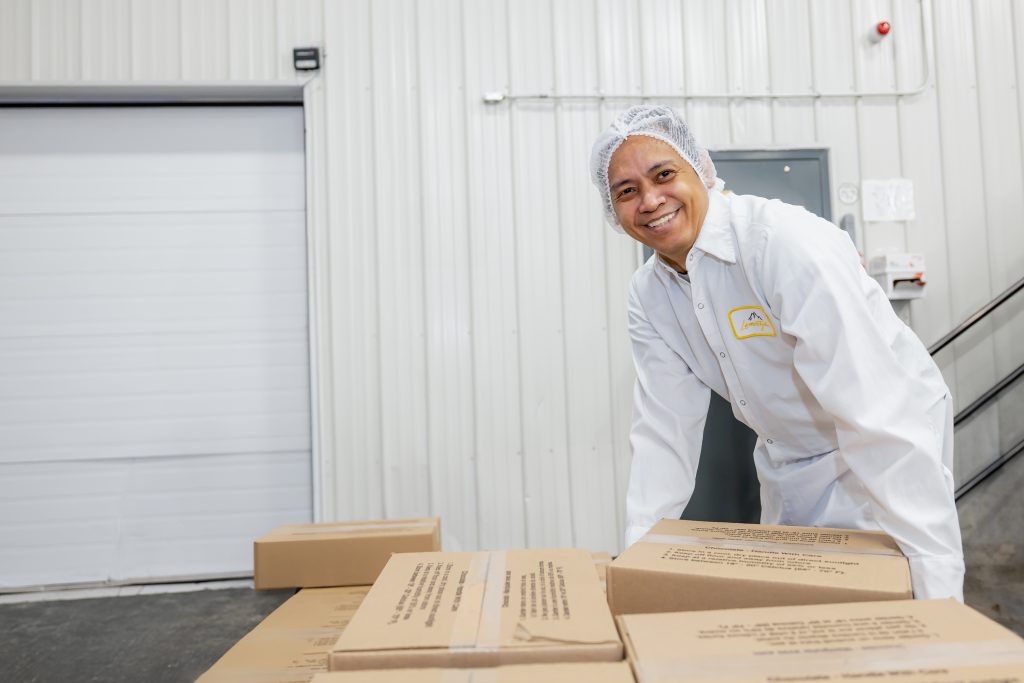 A night in the life of a sanitation worker
Our production equipment is cleaned at night. At the start of your shift, your coordinator will tell you which machines need to be cleaned and what the priorities are. Many machines have to be taken apart to be cleaned properly, giving you the opportunity to learn how they're built. A basic understanding of mechanics comes in very handy!
You make sure all the individual parts are sanitized in the dishwasher. You also clean the inside of the machine and the area around it. When it comes to making premium chocolate, cleanliness is key! Once everything is spic-and-span, it's time to reassemble that machine and move on to the next one.
Break times are the same for everyone. Relax and enjoy a cup of coffee and a few yummy chocolates while chatting with your coworkers.
You may spend some of your work time cleaning moulds or other components used in the factory. Our sanitation staff also clean the premises. In the food industry, the whole factory has to be spotless, not just the equipment!
Work schedule
37.5 hours/week
Sunday through Thursday from 10:30 p.m. to 6:30 a.m., with $3/hour premium pay
Interested in becoming a sanitation attendant at Lamontagne?
Is factory-made satisfaction at Lamontagne right for you? Fill out the form below to apply today! Please note that you will only hear from us if your profile matches our hiring criteria.