And now for the goodies
A routine that's not so routine!
Why? Because professional development is part of the process! You work on different machines, so you're always learning something new. The maintenance team that services the equipment also takes the time to explain what they're doing to help you develop your technical and mechanical skills. Pretty sweet, right?
Become a chocolate expert
From raw materials to the finished product, you get to see how all our specialties are made. And it's so rewarding to see our delicious chocolates on the shelves of the biggest chain stores.
It's hard to be cranky when you're making chocolate.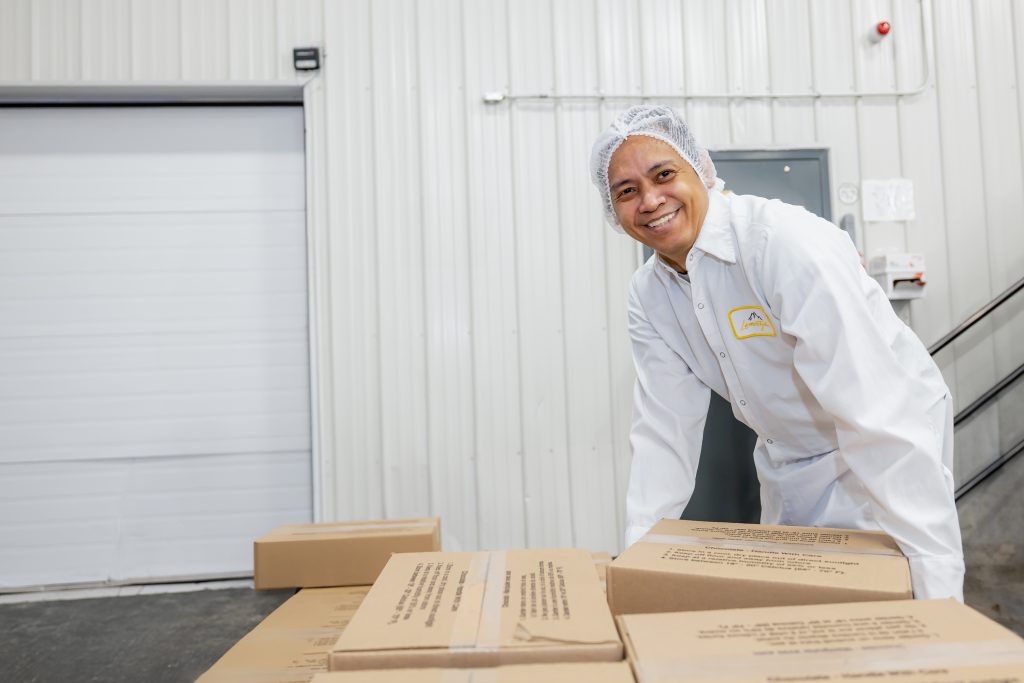 A day in the life of an operator
Your day starts with "pre-production machine preparation," which basically means inspecting the machines. You make sure that all the parts are there, everything is working properly, and nothing is broken or defective. Once you've completed your inspection, you fill out the quality log.
Get ready for the sweet smell of chocolate! You set up the machine and equipment, prepare the packaging and codes, and request the raw materials you need for whatever recipe you're working on. The other people on your shift arrive about 30 minutes after you. You tell them what the products and codes are so they can do the necessary checks during production. If there's a shift rotation, you make sure the next crew gets all the info they need.
With everyone at their station and the machine humming along, you check the quality of the chocolates before and after packaging. You're also responsible for food safety, which means wearing gloves and safety equipment and following hygiene rules and metal detection procedures.
Time for a break! Another operator covers for you during your two breaks and lunch.
The hours fly by and your day is coming to an end. Before leaving the factory, you work with the day labourers to make sure your work area is clean and tidy. You count packages and finished and packaged products for inventory purposes. You sign off on your product traceability paperwork or follow up with the next shift if they're continuing with the same recipe.
Work schedule
37.5 hours/week
Day shift: Monday through Friday from 6 a.m. or 7 a.m. to 2 p.m. or 3 p.m., depending on the equipment
Evening shift: Monday through Thursday from 3 p.m. to 1 a.m., with $2/hour premium pay
Overtime is voluntary and as needed
Interested in becoming an operator at Lamontagne?
Is factory-made satisfaction at Lamontagne right for you? Fill out the form below to apply today! Please note that you will only hear from us if your profile matches our hiring criteria.